Welcome to Mt. Orab Chiropractic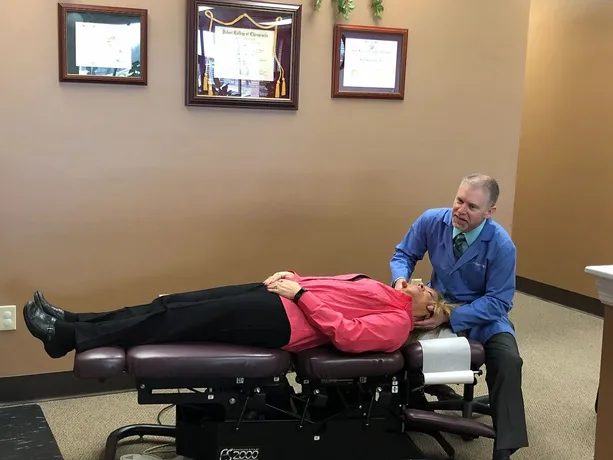 Welcome to Mt. Orab Chiropractic! If you're visiting us, you're probably looking for safe, non-invasive solutions for neck and back pain. Whether you're struggling with an auto, sports, or workplace injury, herniated discs, the stresses of pregnancy, or long-term wear, we provide individualized care to put your body in the optimal position to recover and exceed its performance.
Our mission is to treat patients to the best of our ability for the enhancement of their lives through chiropractic care. Dr. Stephen Pendell has been in practice in M.t Orab since May of 1999. Since then, we've also gone by the name Healthquest, until retaking the name Mt. Orab Chiropractic in January 2018. Throughout that time, we've been known in Brown County as a locally-owned practice that provides relief for musculoskeletal ailments through holistic means and that promotes preventive care and healthy lifestyles.
Chiropractic isn't just quick pain relief; it's a philosophy that views wellness as the body's natural state and aims to restore the natural alignment of the skeletal, muscular, and nervous systems. Many of the people who come to Mt. Orab Chiropractic are looking for an alternative to surgery. Our treatments include spinal decompression therapy, which is gentle stretching of the spinal cord, for people facing spinal disc issues. Our family practice also specializes in pregnancy and pediatric chiropractic, providing complementary therapies such as gentle adjustments, chiropractic massage, and infrared therapy. We also provide neuromuscular treatments such as muscle stimulation that work in conjunction with other forms of physical therapy. Because every case is different, we work with other members of each patient's care team to make diagnoses and develop plans to achieve each patient's health goals.
We strive to help each patient feel informed about their care options and how to ensure the best functioning of their body through the least invasive means. On this website, you will find more information about the services we offer and when they may be used. Some of those are as follows:
• Back pain
• Neck pain
• Headaches
• Car accident and auto injury
• Sports injury
• Massage
• Spinal decompression
• Pediatric chiropractic
• Spinal Adjustments
• And more!
However, we encourage people experiencing pain not to delay seeking treatment. In our Mt. Orab chiropractic office, our expert staff will be able to conduct a detailed examination and provide a fuller explanation for what unique issues a patient may be experiencing and how we can meet their needs.
Follow us on Facebook for special deals and informative posts.
Dr. Stephen Pendell
(937) 444-1166
CONTACT US
We accept most insurances.